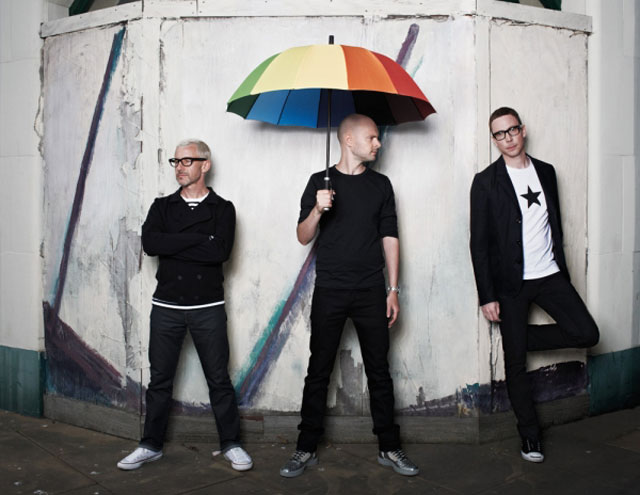 If you put a lot of stock in popularity contests, as one should, Above & Beyond might be EDM's prom king. Since the London-based group—consisting of Jono Grant, Tony McGuinness, and Paavo Siljamäki—formed in late 1999 they've been a perennial top 10 finisher on DJ Mag's Top 100 list, been two-time winners of BBC Radio 1's Essential Mix of the Year, and incited crowds of one million strong to sing along to their histrionic vocal-trance productions. Their successful label, Anjunabeats, has released hundreds of tracks since its inception, a remix they did of Madonna's "What It Feels Like for a Girl" was used for a Guy Ritchie–directed video, and then there's that radio show, Group Therapy, they host every Friday that a few people tune into.
"It's in the region of 20 or 25 million," says Siljamäki of Group Therapy's weekly audience. The producer is talking to the Georgia Straight on his cellphone while on tour in Australia. "It's really weird for us. We sit in a small room, we go through a load of tracks, and we put together the best radio show we can. The waves that it's made is really incredible."
Group Therapy, the 500th episode of which will be broadcast this summer, has a listenership comparable to the population of the country Above & Beyond is currently touring.
"We're suffering from the terrible, terrible weather down here [in Perth]—it's 30 degrees and sunny and we've been on the beach," says the 35-year-old, Finnish-born Siljamäki, his current trials and tribulations a testament to the hardship of being an in-demand touring DJ.
He's on the road with McGuinness, while Grant, who presumably lost a coin toss, handles hosting duties for the radio show and works on new material at their studio back home. After Australia, it's on to Hawaii for the two, and then the Pacific Northwest, where they'll be headlining the upcoming Get Together event at the Pacific Coliseum. The show is taking place during our province's inaugural long weekend for You're a Colossal Disappointment Day (or Family Day, as some are calling it) and is likely your last chance to find someone to spend You Will Die Alone Day with on February 14th.
"In terms of doing a show where we just press 'play', that wouldn't be interesting to us," says Siljamäki. He promises a DJ set of the latest big-room-friendly Above & Beyond remixes and tracks off the forthcoming Anjunabeats Volume 10 compilation that will include a new A&B single named after television's favourite meth chef, Walter White.
Just don't expect them to be hitting you with cakes, crowd-surfing in an inflatable life raft, or yelling, "Make some noise if you're high" over the tracks. A unique element at Above & Beyond shows is the projection of visuals that feature messages written in real time to the crowd.
"You're trying to help people connect with the songs and understand what they're listening to and get them involved and to hype things," he says. "Even if we get words a bit wrong sometimes, or whatever, it's given us this really powerful tool. We don't just have to take the microphone and start talking. A lot of the tracks we play have vocals anyways and we wouldn't want to be talking over vocals on a track."
He adds with a laugh, "We'll try our best not to misspell your city's name."
Having been around since the start of the millennium and predating the eye-roll-inducing term EDM, Above & Beyond is old guard. Over the years, the landscape of the scene has clearly changed a lot, especially since the much-hyped dance-music explosion that people won't shut up about. Your computer is now the best place to hear new tracks, as opposed to a weekly club night, and massives have long since moved from illegal warehouses into more traditional venues.
"I actually think it's been really interesting," says the trance lord. "I've always been interested in the theatrical aspects of shows and nowadays there's lots of really cool stuff to see. There's also many more shows to see than there used to be. One of the things that's maybe lacking a little bit is the sense of community and that vibe where everybody knows each other. I suppose it's still there and maybe it's good that there's always a bit more new blood in the party."
While Above & Beyond's prolific output and connection with fans is certainly responsible for its fame, this didn't happen in a vacuum. Everything EDM-related is selling these days. With the number of shows and ticket prices always increasing, you've got to wonder if the dance dance revolution is just a bubble waiting to burst?
"There's a bit of a bubble. EDM is definitely fashionable in North America at the moment," suggests the man who once performed an acoustic set in a hot-air balloon. "But I also think there's a lot of great music in that scene that is timeless and in 20 years time we'll be listening to it. It remains to be seen how much more commercially successful EDM can become. I sort of see us as slightly above that kind of scene. We've been into this since before EDM had its explosion."
Optimistically, Siljamäki points out that if this bubble does burst, "Something a lot more real will continue."
But, just in case it doesn't, inhale all the nitrous oxide out of that balloon while you can, and have a good laugh.
In + out
Paavo Siljamäki sounds off on the things enquiring minds want to know.
On the DJ Mag accolades:
"It's been interesting to see how the whole scene has evolved. The DJ Mag Top 100 was very important at the beginning of our career. It feels like I've moved on from it.…Every year I've seen guys like Eric Prydz, who I really rate, and Skrillex, who's enormously popular, and we've been higher than them in polls. I've always felt like 'C'mon, that's a bit weird.'"
On using CDJs versus a laptop:
"Using CDJs is simple, it's easy, and it works. It doesn't take too much focus from what we're doing on-stage. We're there with a lot of people and having a great time listening to music with them. I'm such a nerd, if I get in front of a computer screen and start fiddling away it takes away the focus from the show."
On what your grandparents might be up to:
"I've seen people clearly in their mid 70s absolutely having the time of their life at our shows."
this article was originally published in the georgia straight in february 2013