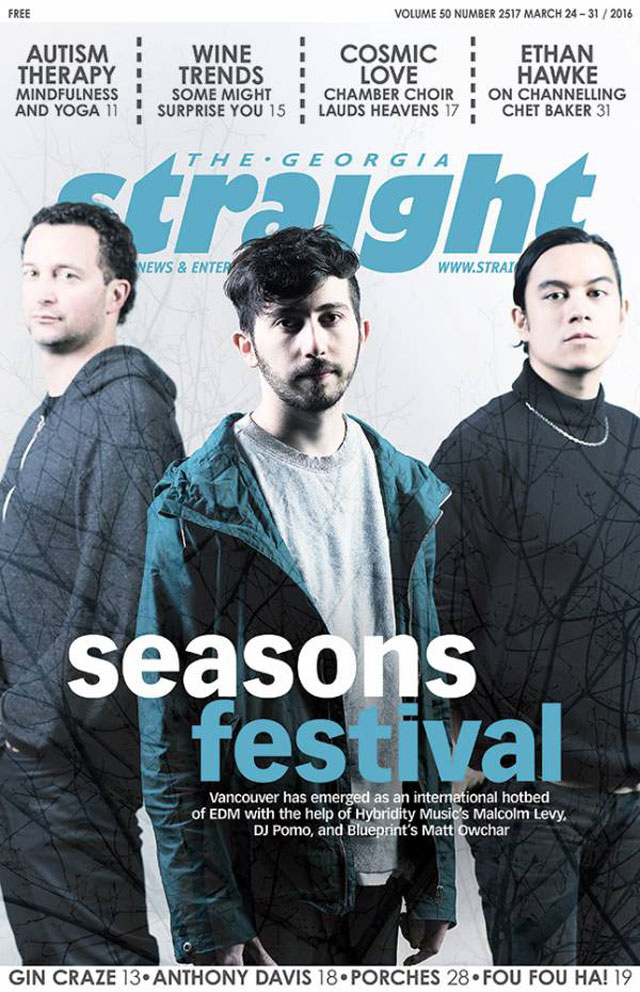 Despite constant reminders that the nightlife is better elsewhere, Vancouver is punching well above its weight class with respect to the electronic-music talent it's producing. Sleepy Tom recently collaborated with Diplo and opened for Madonna. You can watch artists from the label-collective Mood Hut streaming to a global network of fans from their dingy Chinatown studio on the Internet's go-to destination for underground dance music, Boiler Room. Vanic is poised to play Coachella and then release an album on a major. Ekali was sampled on Drake's last album and appears to be thoroughly destroying SoundCloud and Hype Machine with each successive release. And earlier this month Bob Moses did an Essential Mix for Pete Tong on BBC Radio 1, a first for an act from this city. Though based in New York, the duo played tracks by locals Harrison Brome, Lnrdcroy, and Pender Street Steppers as a shout-out to their hometown on dance music's biggest and most esteemed stage.
When was the last time you heard about a band from Vancouver accomplishing anything close to that? Aside from a lot of hemming and hawing, the quickest answer you'll likely get to that question is "No one cares about bands anymore."
This brings us to the sixth annual incarnation of the Seasons Festival put on by Blueprint. The five-day event is bringing together all the different electronic sounds that you'll hear in the stadiums, nightclubs, and warehouses of Vancouver, with a healthy dose of hip-hop thrown into the mix as well. Last year the citywide bash drew 20,000 people, and this year it's expanding and boasts more than 60 artists at over 30 shows across eight venues. The main card is a two-nighter at the Pacific Coliseum headlined by ODESZA and Porter Robinson, who will both be performing their own music live.
"They're more 'indie cross-over electronic acts' than EDM acts. They straddle the line. What they reflect is people's evolving taste," Blueprint's Matt Owchar says of the headliners. "There's no question that [EDM] is disposable music and that it has reached its shelf life."
While laptop bro-ducers pulverizing you with bass drops may be on the way out, dance music, of course, remains unprecedentedly popular, despite entering year umpteen of detractors predicting its demise.
"Some people are in it for the party and the experience," Owchar says over drinks at Six Acres in Gastown. "I'll see those people every week for a year straight, then all the sudden they've up and vanished and you never hear from them again. On the flip side of that, you have people come to the events and then you see their tastes slowly start to evolve."
If you fall into the latter category or aren't up for partying with the great unwashed in a hockey arena, there are numerous events happening around town that shine a light on Vancouver talent. It's what has Owchar most excited about Seasons this year.
"In my opinion, it's unprecedented how much talent there is right now. It's insane," he exclaims. "Our philosophy is we want to take the vast audience we have access to and be like, 'Hey, check out this other stuff that's happening in our own back yard.' "
In addition to Ekali getting a slot at the main event, this includes showcases for labels like Hybridity, Monster Cat, Nordic Trax, and Pacific Rhythm. Making all this happen meant bringing together acts and curators from disparate, subterranean scenes that might not want to align themselves with the biggest promoter of EDM in the city.
If you want to get an idea of what he was potentially up against: about a year ago the Straight contacted Mood Hut, producers of celestial, hazy-sounding house beats widely regarded as the "Vancouver sound". These guys are so detail-oriented about their parties that they sometimes craft custom scents for them. They're also endearingly cagey. An informal coffee date was politely requested, and shot down in under an hour. Then one of them tweeted "Don't talk to that reporter." Shortly thereafter, Boiler Room host Bradley Zero, who releases their tracks on his label, stopped responding to our emails.
But the scene as a whole is facing bigger problems than the potential loss of precious underground cred.
"Everyone in this community, big and small, is having trouble because of the currency exchange. It's a huge, huge issue," Owchar says. "People ultimately realized we're all in this together. We're going to have to explore these different paths of collaboration. If not, how are we going to sustain the growth in this city?"
Some of Seasons' showcases will be taking place in nonclub settings. There's Open Studios, which will be programmed by Pacific Rhythm's Derek Duncan, and Celebs Underground, the tentative name of a new, 4,000-square-foot space in the basement of Celebrities, which will be christened and curated by Hybridity's Malcolm Levy.
"One thing Hybridity always likes to do in our events is do them at new and unused spaces," Levy says via Skype from Los Angeles. "It's important to the art form and the movement that we're a part of. One of the most important things, I think, is creating new, neutral, positive spaces. Clubs come with rules and regulations and histories. Spaces that are undiscovered allow for a completely new context and way of taking it in."
Levy would know. In addition to being behind Hybridity and the kaleidoscopic image and video app Generate, which has over 400,000 downloads, he has introduced this city to hundreds of electronic-music artists since he launched the New Forms Festival nearly 20 years ago. Undoubtedly, New Forms, which took 2015 off, inspired a lot of the music coming out of the city today. Fortunately, a new iteration of the festival is returning later this year, along with ongoing programming. As with Hybridity, a through line for New Forms is it has always held many of its events in previously unused spaces.
"Nontraditional spaces help create that warehouse vibe, feeling, [and] aesthetic that has really underlined underground music, whether it's punk, indie, or electronic. Underground music in general comes from that want, that interest, that feeling of having these spaces where people perform, where you can celebrate that art form in a multitude of ways. They create a context where there is a fresh slate, so to speak," he says.
For Levy, Hybridity is less about being a "monolithic, monetizing beast" and more about collaborating and "putting out really good music and enjoying it". Its showcase reflects that community-minded mandate and includes a selection of its roster and friends.
Free to attend if you RSVP on the festival website, this three-night warehouse party will feature multimedia installations as well as visuals made with Generate. Music highlights, many of which will be live-streamed on YouTube, include performances by acts tapped for releases later this year, such as house and techno producer Sergio Levels and electronic folk act Speaker Face. There'll also be DJ sets from Levy, who's an accomplished artist in his own right; LorneB, who helps with A&R at the label; and Humans, who are hot off a 2016 Juno nomination for best electronic album, a first for the label and the group.
"I've been saying this for a number of years now, but I think now it's more true than ever before. Vancouver definitely has a very distinct sound and a reputation that's only continuing to burgeon at this time," Levy notes.
The events taking place at Celebs Underground and across town at Open Studios are happening under the city's newly created licence that sanctions late-night parties in alternative spaces. This licence is a result of a 15-year conversation with the city that Levy was at the forefront of.
"It's legitimizing what's already been legitimized, but now in a way that's legitimate," he quips. "The thing that I've always tried to do through my own work and through organizations such as New Forms is really help lead the discourse on the importance of those spaces and the understanding of the respect for culture that happens in them."
Open Studios has long been a petri dish for underground music in Vancouver. This trend continues during Seasons, when it'll play host to three nights of underground acts, including an evening showcasing acts from Pacific Rhythm; Sadar Bahar, an OG house DJ from Chicago; and a live performance by RAMZi, a producer of electronic soundscapes that sound like they were crafted in a forest on an alien planet.
"I feel like it's an extension of theatre. With software I feel like I can create a world," RAMZi, born Phoebé Guillemot, confirms via Skype while in Los Angeles on tour. "There's RAMZi's world, then there's the aliens and zombies who are invading the land.
"This tension in my music that oscillates between light and darkness can also be translated through those three main forces on a battlefield," she explains. "For me, this is not just an allegory, the danger is real."
RAMZi moved to Vancouver from Montreal a year ago, a reverse of the long-standing tradition of our city hemorrhaging creatives in the other direction. She credits Mood Hut, who played a track of hers on Boiler Room, and the New Forms Festival, which she'd heard good things about from friends, with piquing her interest in the city. But when she got here, she was surprised to find that the community was as small as it is. It's something you hear frequently from touring acts. To outsiders, the city's dance-music scene has a larger-than-life reputation.
"Oh yeah, I had that feeling. It's funny," she recalls. "It's really interesting, the distortion. It's still a really small scene and I'm glad that it's not full of tourists.
"Maybe I shouldn't talk about it," she says with a laugh. "I don't want people moving to Vancouver because of the scene. I need to keep it secret."
She has no plans to leave Vancouver anytime soon. RAMZi's debut LP comes out this summer on Total Stasis and she intends to release music by her friends on her own imprint, Pygmy Animals.
"I think people are trying to push forward the limits of electronic music and I'm hopeful to see more results in the coming year. I like to think that Vancouver is more about a community than a scene. But we do need more spaces to give a place to experimentations besides the club-music scene that tends to push out live acts for the profit of DJ sets," she says.
Creating a better live experience is something that's important to David Pimentel as well. Better known as Pomo, a nod to his hometown of Port Moody, he'll be debuting a set with a full band for Seasons at Fortune Sound Club.
"I love DJing, but my passion isn't to become a great DJ," the young producer says at Milano Espresso Lounge in Gastown. "I love dance music, but I love playing instruments and I feel the audience gets something out of watching a live set. I wanted to put together a dope band and showcase what I'm really into: great musicians and great grooves."
Since graduating from the Nimbus School of Recording and Media, Pomo has found fortuitous happenstance a recurring theme in his fledgling career. He didn't spend countless years slogging it out in a van and playing to empty bars across the country. Instead, while living in Montreal, he sent a demo of his second-ever dance track to Kaytranda, a shit-hot DJ–producer from Quebec.
"Without asking, he put it in his mix. He named it 'So Fine'—that wasn't even the name. And it just started to take off on its own," he recalls. "It was funny. I thought it wasn't done yet."
The soulful track then caught the attention of his Los Angeles–based label HW&W, which swiftly signed him, as well as Disclosure, the U.K. duo who made everyone remember deep house existed for the first time in a decade and introduced Sam Smith to the world. After that, Pomo spent two months opening for Disclosure in the States and Europe in front of crowds of up to 6,000.
"Playing to that number of people every night was a big learning thing for me. When you're used to playing smaller clubs, you feel the audience really close to you and you hear them. Out there, you feel kind of naked. You're alone on a big stage and everyone is so far away," he says.
Earlier this year, Pomo produced the standout track "Am I Wrong" on Anderson .Paak's latest album (the two connected over Twitter), and also received a Juno nomination for best electronic album (this was a total surprise, as he had no idea his label submitted his album). So it's a good thing he got the jitters from playing in front of large crowds out of the way. Given that the big-room sound is shifting from bangerz to acts like Pomo, who's to say he won't be a main-stage festival headliner in the near future?
After all, the attention Pomo and others mentioned in this article are attracting is approaching what acts that are higher on the bill receive. In addition to regular coverage on popular dance-music-centric sites like Dancing Astronaut, Resident Advisor, and Your EDM, it's not uncommon to read about Vancouverites on the likes of Billboard, Pitchfork, and Spin. On Spin's 2015 year-end listicle of the top 40 dance tracks, four were by locals (Sleepy Tom, DJ Fett Burger & Jayda G, Cyril Hahn, and Pender Street Steppers) and a fifth was by a New York act released by Vancouver-based label 1080p.
You look at that and their play counts, social-media followers, and busy touring schedules, and it's hard not to think that a lot of these artists are a bigger deal as soon as they hop a flight and land in another city. But with support from festivals like Seasons and the increased legitimization of the spaces where the music lives and breathes, it appears that the world-class talents out of Vancouver won't be in the shadows in their hometown for much longer.
photo by www.rebeccablissett.com
this article was originally published by the georgia straight in march 2016.