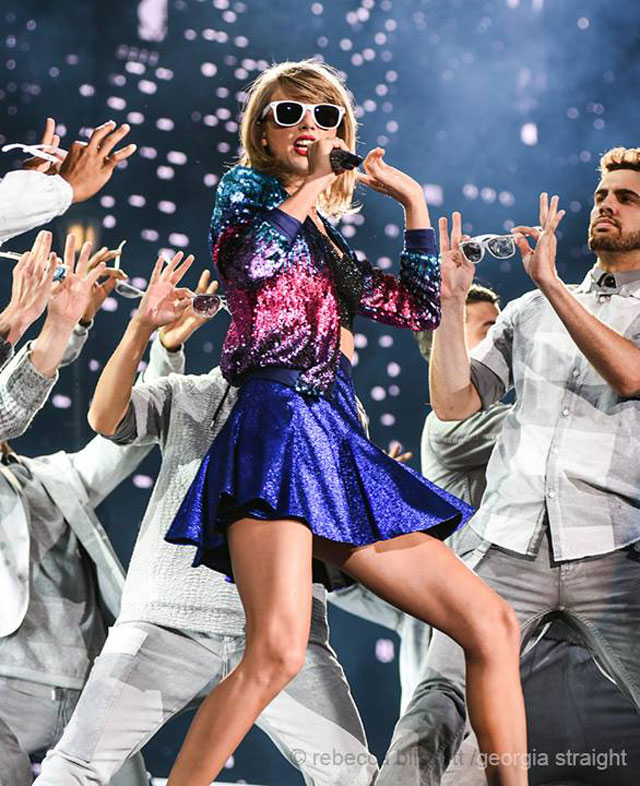 Spending an entire evening with someone who won't stop bitching about their ex isn't something any sane person looks forward to. However, it's different when that someone is Taylor Swift—the biggest superstar in music and probably the most powerful woman on the planet.
I used that "probably" qualifier because Forbes disagrees and ranks her as the 66th most powerful woman. But that list is pretty suspect as they rank Angela Merkel in the top spot and I've never fucking heard of her. Can you blame me? Merkel sends out Facebook updates to her paltry 1.1 million fans in German, and doesn't even have an Instagram account. Tay, on the other hand, has 77 million Facebook fans, which is comparable to the population of Germany, and consistently pushes out great pictures and video across multiple platforms.
Given Swift's mastery of social media and the extraordinary commercial and critical success of her fifth album 1989, it's no surprise she was able to sell out B.C. Place with ease. The 1989 Tour was Vancouver's biggest concert since, well, two years ago when the 25-year-old phenom last graced us with a visit. Said another way, for the benefit of people born before 1989: this had the potential to be like catching Madonna's Blonde Ambition Tour.
The Swifties were decked out for what was sure to be the best night ever. Elaborate LED-laden outfits and signs were lovingly made well in advance. If, gasp, you didn't have an article of clothing or sign that lit up, you were in luck as an LED bracelet was waiting for you at your seat. Following two opening acts, whose sole purpose served to get you there early and buying the uninspired merch, our bracelets all magically lit up in unison. It was time for the main event.
Remarkably, the show started early—a first in Vancouver's history. This was especially impressive considering Swift is so wholesome, she was probably busy the whole day healing kids stricken with blindness, leprosy, and paralysis at B.C. Children's Hospital by merely smiling at them. Taking the stage in sunglasses, a purple skirt, and a sequined top and jacket, Swift opened with "Welcome to New York". Deafeningly shrill squeals of "OMG" ensued and a new city record for selfies taken in a two-hour timespan was subsequently set.
"Good evening Vancouver. I'm Taylor Swift and there's really nothing in the world I love to see more than a sold-out stadium of 45,000," she informed her giddy disciples before launching into "New Romantics". This was but one of many times she addressed the faithful. Sometimes she even went on five-minute-long motivational sermons. (tl;dr: Don't let your mistakes define you.) If that wasn't enough, there were lengthy video interludes featuring Swift squad members Lena Dunham, Selena Gomez, HAIM, and others doling out even more valuable life advice. (tl;dr: Taylor Swift is a great human being and women gotta stick together.)
T-Swizzle did pretty much all of 1989 with a spattering of hits from her previous albums. Notably, "Sparks Fly", which hadn't been performed on the tour yet, and "We Are Never Ever Getting Back Together", which had one of the more spirited singalongs of the evening.
While this was happening, Swifties were treated to standard pop concert theatrics like costume changes, lasers, and a catwalk with neon trim that raised 25-feet in the air while rotating 360 degrees (Okay, that was a new one.) Joining her on stage were some other people, who appeared to be playing instruments, as well as a dozen male back-up dancers, whom she frequently had flirtatious exchanges with—even the eight-year-olds in attendance weren't buying that, though.
Throughout the concert Swift teased there'd be a surprise guest. This was big news as at previous stops she'd invited out the likes of Lorde and the Weeknd. Was it going to be her beau Calvin Harris? Swift did seem to have a postcoital glow early on in the show. (Her squad can't use this bracelet to track me down can they?)
Instead we got Nico & Vinz. I'm far more familiar with the work Angela Merkel, but the three performed Nico & Vinz's hit "Am I Wrong" and, like every song this evening, it was extremely well received. Swift also pointed out that the Norwegian duo were there of their own free will even though they weren't getting paid—an affiliation with Tay is better than money. That's why Keds had photo booths inviting people to take "shoe selfies" set up all over the concourse.
The final song of the evening was, naturally, "Shake it Off", which she performed on the raised catwalk with all 12 dancers. As she belted out her "fuck you, haters" anthem, confetti sprayed everywhere, fireworks went off, and the LED bracelets all went haywire. The people attached to the bracelets did too.
Following that transcendent experience, 44,999 rabid Swifties jubilantly exited B.C. Place Stadium. Hell, even the middle-aged dads tasked with chaperoning weren't looking nearly as downtrodden as they are at the conclusion of most pop concerts. But at the end of the day, this show was like most by-the-numbers pop concerts, and won't go down as legendary performance by a superstar at the top of her game. Oh well, let's try this again in 2017, Tay. Maybe Forbes actually does know what's up and we should give that Merkel lady a closer look in the meantime.
this article was originally published by the georgia straight in august 2015.
photo by rebecca blissett www.rebeccablissett.com