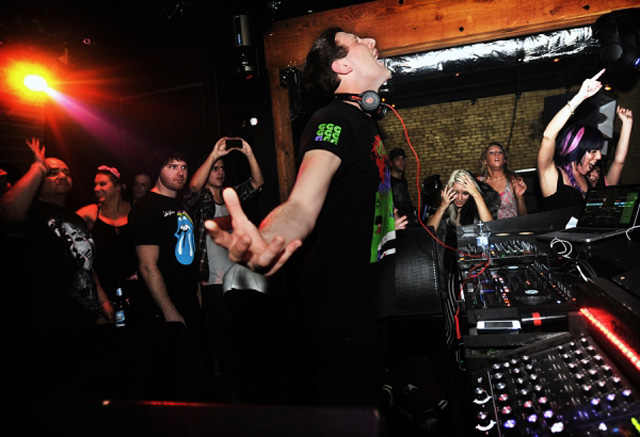 There were at least three young men wearing shirts emblazoned with "Suck My Dick" in attendance at the Zomboy show. Sure, there was a lot of what pickup artist extraordinaire Mystery would refer to as peacocking going on in the pretty packed Fortune Sound Club. Bridge-and-tunnel EDM enthusiasts were decked out in shirts with blinking LEDs, glowing gloves, and Fun Fur hats, and one lady was even wearing glowing Fun Fur. But it's the "Suck My Dick" shirts that turned out to be the best metaphor for the gig, as that's how subtle the music was.
Born Joshua Mellody, Zomboy produces big-room EDM with huge bass drops, wacky samples, and… Oh, screw it, he sounds just like Skrillex. Since September 19, 2011, Zomboy's Wikipedia page has been deleted five times because editors on there don't believe he's important or significant. However, that appears to be a mistake, as the 23-year-old from Guildford, England, is on the way up. His latest EP, The Dead Symphonic, came out in September and hit number one on the iTunes Electronic Albums chart in Canada and the U.S.
Sporting a black T with "Hulk" written on it, he took the stage shortly before midnight and instantly smashed everyone by opening his DJ set with Skrillex's "Goin' Hard" mix of Birdy Nam Nam's "Goin' In", and followed that with one of his own productions, "Nuclear (Hands Up)". Hearing all these songs on Fortune's terrific sound system worked the crowd into an absolute frenzy, and you could tell they were going to be getting what they came for: a relentless face-fucking by nonstop EDM bangers. There would be no handholding, romancing, or foreplay on this rainy December evening.
The opening act learned about the audience's desire the hard way. Sixteen-year-old local boy Giuliano Rascan brazenly ended his set with one of his own productions, a floaty melodic number that—gasp—didn't have the compulsory bass drop. Everyone quickly dispersed. The young lad had fared much better when he began his set with Deorro's "Clap Your Hands". (If you're not familiar with that one, it's the electro-house song that has an Auto-Tuned voice repeating, "Everybody clap your motherfucking hands right now" for a minute before a ridiculous, room-shaking drop.)
Zomboy's tunes clearly hold their own alongside the EDM hits. This was especially evident when he played Knife Party's hilariously fun "Internet Friends" then mixed into "Vancouver Beatdown", one of the more interesting tracks off his latest. Zomboy wrote the song when he visited Vancouver back in May and even played it out that night. It's a raucous '80s electro-funk-infused number with a guitar riff reminiscent of ""Aerodynamic" by Daft… Oh, fuck it, it sounds just like Skrillex and Wolfgang Gartner's "The Devil's Den".
An hour and 20 minutes after he started, the audience was sweaty, satiated, and ready to sprint for the last SkyTrain. Zomboy ended his set with one of his biggest, "Game Time", and the ravers grinned as they waited in line at the coat check. Witnessing the spectacle firsthand, it's easy to understand why crowds, which seem to have an endless supply of money, flock to these shows on a weekly basis. Because, really, who doesn't like having their dick sucked?
photo by rebecca blissett www.rebeccablissett.com
this article was originally published by the georgia straight in december 2012