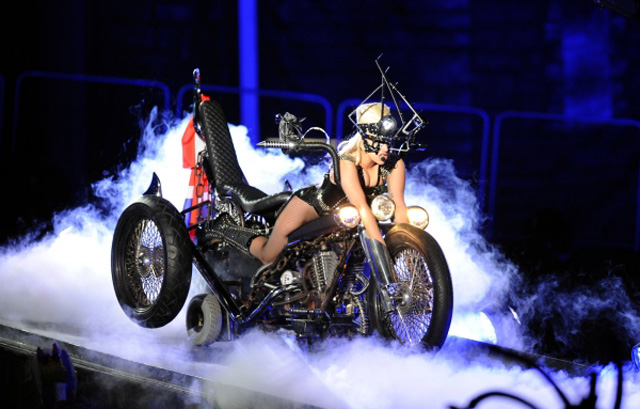 Without question, Lady Gaga is the best pop star of our time. Twenty-six-year-old Stefani Germanotta's songs are wonderfully infectious, her videos are mesmerizingly artful, and her outlandish style is unfuckwithable. The world's most popular tweeter is panache perfect and it's impossible to avert your eyes. Simply calling her a "young Madonna" needs to end, as she's equal parts Damien Hirst and Alexander McQueen as well. My God, even her signature scent, Fame, which they were handing out samples of at Rogers Arena, smells good and doesn't induce hives.
Walking through the crowd at the first of two Vancouver stops for the Born This Way Ball on Friday was to observe a sweded retrospective of every outfit the Queen of Pop has ever donned. From the moment the curtain dropped and unveiled the show's ridiculously awesome set—a three-storey castle—till the very last song, this city's most flamboyantly gay men and most "misunderstood" young women were elated. Her monsters were not disappointed.
Gaga took the stage in spectacular fashion: riding a mechanical unicorn while singing "Highway Unicorn (Road to Love)". However, a metallic helmet hid her face until the third song. The reveal was, of course, outrageous. Lady Gaga's head appeared at the top of a giant inflatable body in the lithotomy position. Shortly thereafter, she emerged from the body's zipper-vagina to perform the LGBT mantra "Born This Way". From here on out, it was clear that the Vancouver Pride Society will need to work overtime this year if they want the parade to compete with this grandiose pop affair.
The Ball is a pop-rock opera. The story goes Lady Gaga escaped to Vancouver from an interstellar Government Owned Alien Territory (G.O.A.T.) to train for an invasion of Earth. Periodically, Mother G.O.A.T., a giant animatronic re-creation of the Fame Monster's face encased in a glowing diamond, would lower from the rafters and spew some gibberish about Operation: Kill the Bitch. It even sang part of "Paparazzi" then bled to death out of its eyes, mouth, and nose. Confused? It's okay, that's part and parcel of the Lady Gaga experience.
Megahits like "Bad Romance", "Just Dance", and "Telephone" were almost always accompanied by a costume change into an Italian-fashion-house–designed outfit. There were even a few throwbacks to classics like an assault-rifle bra, which she wore during "Alejandro", and a meat dress, which was trotted out for "Americano" and "Poker Face". (The latter was performed while in a meat grinder.) The Kermit the Frog doll top appeared on-stage but, sadly, was never worn.
Pop concerts tend to be as spontaneous as evolution. Thankfully, there were a few moments when our visitor from G.O.A.T. veered from the script and almost seemed human. At one point she sang "Happy Birthday" to a tearful devotee who had just turned 18. Following that, Gaga relayed what her dad told her when she hit the same age: "Don't get too excited. It just means you don't get a fucking allowance."
Then, after performing "The Edge of Glory" during the encore, Lady Gaga invited five lucky little monsters on-stage with her during the final number, "Marry the Night". Jubilant tears ensued as they danced with their hero, then descended through a trap door to hang out backstage. Damn it, Gaga! You're making everyone else look bad, again. How many more Twitter followers do you need?
this article was originally published by the georgia straight in january 2013