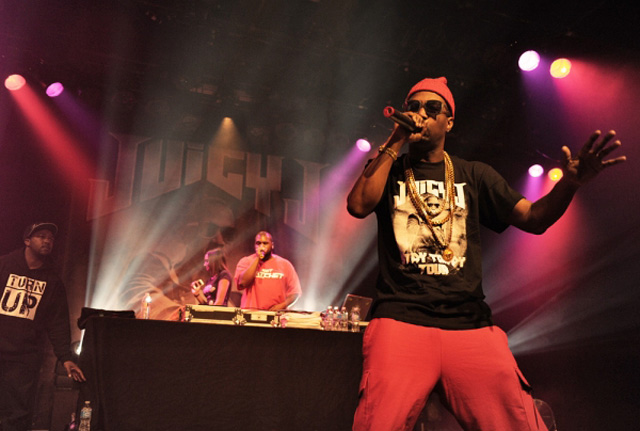 It was Saturday night and the curious suburban mating ritual of getting done up, hopping a SkyTrain to Granville Street, then drinking so much you vomit all over yourself was in full effect. In a sold-out Commodore Ballroom, Jägerbombs were lined up, joints were rolled, and ass cheeks were poised to clap in anticipation of Juicy J hitting the stage.
Born Jordan Houston, the 38-year-old rapper from Memphis, Tennessee is famous for being a member of the legendary Dirty South group Three 6 Mafia. However, his solo career is currently turnt up in its own right and he's established himself as a larger-than-life elder statesmen of drug-taking and tail-chasing from the South—basically rap's Bill Clinton.
Featuring huge bass lines, rolling snares, and infectious lyrics—which have spawned countless annotations on Rap Genius—Juicy J makes the best party music around, and his forthcoming album Stay Trippy is one of the year's most eagerly anticipated hip-hop releases. This likely explains why the Commodore wisely elected to lock up its glassware for the evening and serve everything out of plastic cups.
Sporting a red toque, shades, gold chains, and a Stay Trippy Tour T-shirt, Juicy J opened with "Show Out". Initially the crowd seemed more interested in Instagramming the rap icon while sparking joints than in the performance. But the man from the city our beloved NBA franchise absconded to really hit his stride a few songs in with "Get Higher". Produced by wunderkind Lex Luger, the crowd immediately got caught up in singing the chorus: "Take the blunt, dip it in the lean, then light it/Pop a molly, drink some orange juice, get higher."
The party chants continued with four consecutive Luger-produced bangers "Who Da Neighbors", "Riley", "Bombay Gin Dance", and "A Zip and a Double Cup". At this point, the dance floor was billowing marijuana smoke and it was a certainty that the owner of the buck-a-slice closest to the venue would be able to pay for his kid's braces. (Attempts by security to curb the pot smoking were an exercise in Sisyphusean futility.)
While performing tracks he did with the Weeknd, Wiz Khalifa, or Triple 6, Juicy J's powerful voice and commanding stage presence kept the cotton-mouthed faithful attentive. No one even seemed to mind that he didn't perform his Oscar-winning song, "It's Hard out Here for a Pimp", from the Hustle & Flow soundtrack.
"There's a lot of sexy ladies in Vancouver," he proclaimed after inviting a group of young women on-stage to make out with each other and then twerk to "She Dancin'" and the strip-club anthem "Bandz a Make Her Dance". Fret not, Juicy J also took the time to validate the quality of our city's drugs on numerous occasions as well—a huge relief for everyone in attendance given his well-documented connoisseurship of narcotics and "ratchet pussy".
"Who wants to get high with me? Who wants to go to a strip club with me? Who wants to share their girlfriend with me?" he asked at one point. And everyone in attendance was thinking "Pick me, Juicy. Oh, please, pick me." But hold the phone. Drugs, strip clubs, and partner swapping? Maybe the mating rituals of these loogans from the suburbs aren't such a bad thing after all.
photo by rebecca blissett www.rebeccablissett.com
this article was originally published by the georgia straight in june 2013