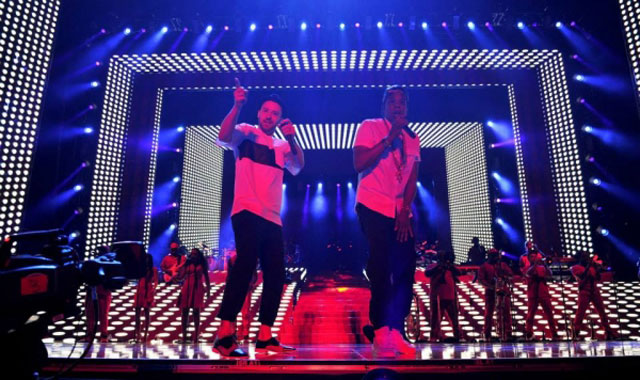 It's not everyday you get to watch a former Mouseketeer and a former crack dealer perform at the same time. On paper, The Legends of the Summer Stadium Tour that featured pop star Justin Timberlake and rapper Jay Z certainly seemed like an odd pairing. Yes, the two have been collaborating on tracks lately, but surely one can't throw up the Roc-A-Fella diamond sign and bring sexy back at the same time.
"Y'all ready to party?" the ex-'N Syncer asked after taking to the stage and singing the intro to "Holy Grail", off of Shawn Carter's latest, Magna Carta… Holy Grail. B.C. Place was indeed, with its stupidly expensive roof, which was open for once, and packed full of normals. (Presumably, the Honda Celebration of Light, which was happening at the same time as this show, and pricey tickets kept the dregs of Granville Street away.)
Thankfully, the pair didn't linger too long on their latest musical offerings, which, let's face it, blow. On the obligatory four-storey-high stage, which featured massive LED screens and 18 or so backup performers that you couldn't care less about, JT and J-Hova treated those in attendance to a two-hour-and-15-minute-long hit parade.
After a medley that included "I Just Wanna Love U (Give It 2 Me)", "Rock Your Body", "Izzo (H.O.V.A.)", the Jackson 5's "I Want You Back", and "Excuse Me Miss", it quickly became clear how this show was going to work: Timberlake would sing the hooks on Jay Z songs and Jay Z would say "Uh-huh" and "Yeah" during Timberlake songs. It was also clear that these two have a fuck-tonne of stage presence and most would be content to watch Mr. Biel and Mr. Knowles spending the evening giving a lecture about how sweet the new Myspace is.
On their own, neither could pack B.C. Place—you need to be a Beatle or Taylor Swift to do that. But both proved more than capable of keeping the 40,000-plus in attendance satiated when they were on-stage performing solo.
The shrillest squeals of the evening came whenever JT, who seemed the more human of the two, busted out the dance moves. Yes, he was electric and can still get down. Hearing those shrieks definitely made it seem like the majority in attendance was there to see him. Apparently, an extended hiatus from music to take on plum acting roles in The Love Guru and Yogi Bear hasn't hurt his stock in the slightest.
Though the show was unforgettable, it was not without cornball moments. One that sticks out is Timberlake crooning Frank Sinatra's "New York, New York", which was, naturally, followed by "Empire State of Mind". However, the biggest came just before the final song of the evening, "Young Forever", when Jay Z, who barely acknowledged the faithful all evening, made a left-field, cheapo attempt to tug at their heartstrings by dedicating it to Trayvon Martin.
As Timberlake sang the chorus, an impressive chunk of the crowd lit up the stadium with their smartphones at Jigga's insistence. You couldn't help but think he had devised a diabolical new means of mining everyone's personal data off of them. (You know, like he did with that NSA-esque Samsung app last month.)
Fighting your way out of B.C. Place, it wasn't hard to overhear people uttering, "Best show ever". When you've got two top-shelf showmen with tremendous bodies of work, chances are you're in for a once-in-a-lifetime evening. The Legends of the Summer Tour lived up to its braggadocio name, regardless if your idea of a good time is watching Disney movies or smoking crack.
photo courtesy of the georgia straight
this article was originally published by the georgia straight in august 2013