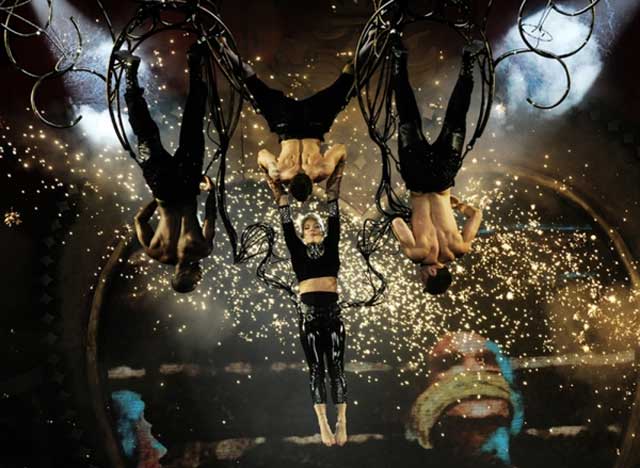 Pink's stage and catwalk were undeniably shaped like a flaccid penis and ball sack, but she certainly didn't deliver a limp-dink performance. As far as female pop superstars go, Alecia Beth Moore isn't the most provocative (Lady Gaga), catchy (Katy Perry), sweet (Taylor Swift), stupid (Rihanna), or geriatric (Madonna). But she has the most death-defying live show of the bunch.
The sold-out Rogers Arena was a proverbial henhouse. The hormonal scale tipped so overwhelmingly in estrogen's favour that some of the men's bathrooms were converted to women's to accommodate the imbalance. It's a good thing the concert's organizers had the foresight to do this, as the long-in-the-tooth crowd was hopped up on Mike's Hard Lemonade and had their urinary incontinence pushed to the brink by utter jubilation.
The Truth About Love Tour had a definite Cirque du Soleil feel, complete with a ringmaster named Rubix Von Füchenhürtz, who got everyone chortling by clowning around before the curtain rose. After a CoverGirl ad starring Pink, which received a rousing response, Rubix yammered on a bit more and the 34-year-old hitmaker took the stage in Vancouver for the first time since 2002 in spectacular fashion: she slingshotted 30 feet upwards from a trapdoor on the stage. Attached by bungee cords to an oscillating metal frame with three shirtless male acrobats on it, she sang "Raise Your Glass" while bouncing up and down, inverted for much of it. No longer airborne, she then performed "Walk of Shame", "Just Like a Pill", "U + Ur Hand", and "Leave Me Alone (I'm Lonely)" and proved equally adept at keeping the faithful's attention without risking her life (though it was a lot more ridiculous and awesome when she was). While whimsically dancing along the shaft of the catwalk towards its bulbous head, Pink greeted people, signed autographs, accepted fan art, and generally didn't seem like an inhuman corporate entity despite being worth an estimated $70 million and having the flattest stomach in the building.
The evening's Lilith Fair moment came after Pink regaled those in attendance with a tale about her two-year-old daughter, who describes the next song as "full of mom words". Whether or not Pink used the mom word was tough to tell as the crowd was singing the chorus of "Fuckin' Perfect" far too loudly to hear her. During those three-and-a-half minutes, our cycles synchronized and we were all goddesses.
The only real buzz-kill of the show was a paint-by-numbers cover of Chris Isaak's "Wicked Game". The real estate of this hour-and-45-minute-long show, which made you want to drink a lot more Cheetah Power Surge, would have been better spent performing songs from her vast catalogue of hits—the most conspicuously absent one being "Get the Party Started". Besides, the video for Isaak's song really objectifies women.
For the encore, Pink, in a gold bodysuit, attached herself to cables and proceeded to do her best Cathy Rigby impersonation. While singing "So What", she flew and flipped across the entire arena. At times, she was almost high enough to touch our nonexistent Stanley Cup banners. After detaching, she wasn't on the ground long before she emulated her 2010 Grammy performance by hopping into aerial silks to do an incredibly dangerous-looking gymnastics routine above the stage while singing the touching, emotional ballad "Glitter in the Air".
Pink survived this wickedly entertaining performance, and hopefully she won't wait another 11 years before returning. As we filed out, everyone felt elated, empowered, and stoked about those ads in the concourse for an upcoming Dixie Chicks concert… Oh God, who knew that emasculating stage would turn out to be a prophetic warning?
photo by rebecca blissett www.rebeccablissett.com
this article was originally published by the georgia straight in october 2013