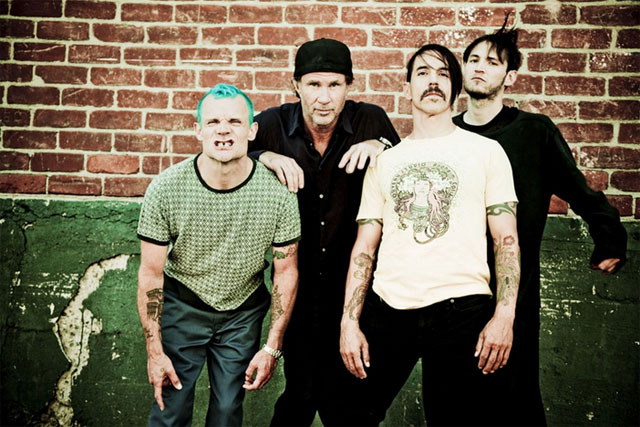 Next week you might be able to place a bet on whether or not you'll see a musician's penis. If you go out to live shows with any regularity you've probably seen a few of them. Hell, you may even make bets about them among your friends. I sure do and almost always win. The trick is to offer to buy the musician a drink and then just ask politely to gaze at it. More often than not, they'll happily expose themselves to you.
This is different, though, as we're talking about possibly seeing a dick during the Pepsi Super Bowl XLVIII halftime show, the biggest musical event of the year. There are already a lot of narratives swirling around about the big game between the Denver Broncos and the Seattle Seahawks. It'll be the Broncos' high-flying offence versus the Hawks' devastating defence and a bunch of other boring bullshit you don't care about. However, a genuinely intriguing story line did emerge on January 9 when Flea tweeted "Anybody wanna see my cock at the Super Bowl?"
Fuck, yes!
The 51-year-old bassist will unfortunately be performing with the rest of the Red Hot Chili Peppers, who will unfortunately be accompanying that guy who sang the hook on Major Lazer's "Bubble Butt". I'd rather watch a preseason WNBA game than a RHCP performance, but if Flea's gonna drop trou I will tune in, as the fallout will seem like some insane Manson Family vision of the apocalypse compared to Janet Jackson's Nipplegate and M.I.A.'s Middle Fingergate. Not only that, the man born with the name Michael Balzary would skyrocket past Ewan McGregor to have the most famous pecker on the planet. (While I don't have any hard evidence to back up my claim that Rent Boy has the most viewed penis of all time, after my own it is the one I've seen the most.)
Flea deleted the tweet, but it made the rounds because he has nearly a million followers. If you're a degenerate gambler like me, this is intriguing because it means oddsmakers certainly saw it. It's also terrifying because it means there are at least a million people out there listening to funk rock.
The Super Bowl is the gambling event of the year, and you can make all sorts of crazy proposition bets, like what colour the Gatorade will be that's dumped on the winning coach. And, yes, you can even throw money down on the musical performances. Last year, you could wager if Alicia Keys would flub the national anthem, if Beyoncé's hair would be curly, or if Jay Z would make a cameo appearance on-stage. A prop bet about Flea whipping his dink out seems destined to be in play for Super Bowl XLVIII.
I'm hesitant to offer gambling advice, but it's free money if you bet on seeing Flea's circumcised and very aesthetically pleasing member on Super Bowl Sunday. True, the game is outdoors at MetLife Stadium in New Jersey in February, so the weather will be a factor—Nihilist #2 from The Big Lebowski may elect to put a sock on it, as he's done in the past. Nonetheless, I'm extremely confident the veteran Californicationer will make this the greatest halftime show ever, and we'll all be winners. C'mon Flea, daddy needs a new pair of shoes. (Not really, I have a clothing sponsor who gives me free shoes.)
Sports will always be superior to music because of gambling. I'd hit a lot more shows and generally wouldn't be bored as shit at the ones I do go to if I could lay a little action on the evening. How many of the band's friends who clicked "attending" on Facebook will actually show up? An over/under on stomachs pumped at the next EDM bash? Will the guitar player's psychotic ex show up all coked-up and start a bunch of drama? Aside from being loads of fun, the house always wins, so this is a total cash cow. I just made the music industry profitable again. You're welcome!
this article was originally published by the georgia straight in january 2014