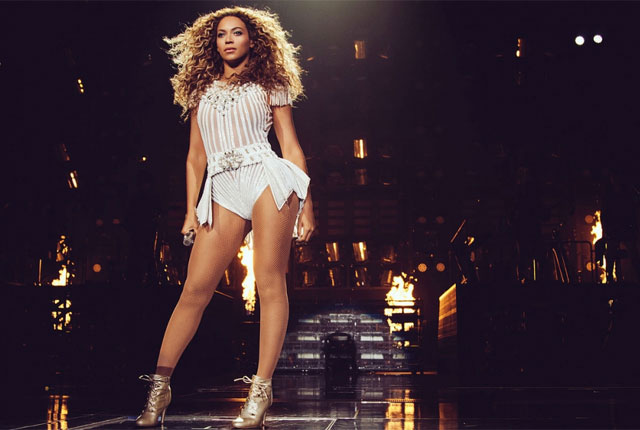 Hordes of women packed a sold-out Rogers Arena for an evening of selfies, squeals, empowerment, and feeling awesome about how their bodies look when squeezed into the latest offerings from Sirens. Who cares that the Mrs. Carter Show wasn't in support of a new album? The incredibly thirsty, fecund crowd would not be denied their moment on this rainy November evening.
The lights dimmed, the curtain dropped, and the first of many video interludes played. Cue pyrotechnics, an 11-piece band, nine back-up dancers in couture birdcage skirts, and two French breakdancing twins, the lone possessors of Y-chromosomes to grace the stage. And then she arose from a trap door in the stage. The Queen Bey herself was among us mere mortals in Vancouver for the first time since 2009 and she looked incredible. Cue goose bumps, glass-shattering shrieks, and unadulterated glee.
After correctly identifying what city she was in, to the delight of everyone, the 32-year-old pop deity launched into "Who Run The World (Girls)". As the chants of "Who run this mutha? / Girls" spread, the gender pay gap was completely forgotten by those singing along. And if you're like me, a textbook example of white male privilege, it immediately became clear that you'd best keep your fucking snide comments to yourself for the next hour and 35 minutes.
While the strategically placed electric fans that kept Sasha Fierce's shiny, full-bodied mane aflutter throughout the show were a nice touch, the stage set-up was standard fare. There also weren't many moments where she veered off the show's script and interacted with the faithful—save touching the hands of a few lucky BeyHive members up-front, which, presumably, has the same effect as drinking out of the Holy Grail.
Beyoncé more than made up for this with a healthy dose of hits from her four solo albums coupled with her exceptional stage presence, elaborate choreography, and nonstop costume changes. (The lime green, leopard-printed fringe minidress was especially stunning.)
At one point in the show, while sporting a blue sequined bodysuit, she flew over the crowd to an auxiliary stage shaped like the letter B. Once there she performed "Irreplaceable", "Survivor" by Destiny's Child, the sing-alongiest sing-along of the evening, and "Love On Top" before flying back to the mainland. (She didn't actually fly. But the consensus was if Beyoncé put her analytical Virgo mind to it, she could soar like a fierce bald eagle without the assistance of wires.)
After another costume change, she returned to the stage. We were simultaneously ready for this jelly while being unable to handle it. It, in this case, were the megahits "Crazy in Love" and a version "Single Ladies (Put A Ring On It)" that featured a snippet of the theme from The Jeffersons, something less than one percent of the audience was old and sober enough to recognize.
It could have ended there and everyone would have still walked out with an odd perma-grin that's usually reserved for people indoctrinated into UFO cults. But no, not enough tears had flowed yet. After a video that included shots of her singing for Barack Obama ('Yay') and holding Blue Ivy ('Aww'), Beyoncé belted out a brief cover of "I Will Always Love You" before seguing into the equally emotional "Halo" to end the unforgettable evening.
Excluding the woman who got ejected for barfing her guts out in a garbage can in the men's washroom in section 109, it's impossible anyone left this show disappointed. It was wicked entertainment with an empowering message: women everywhere can move on up in a man's world. You just need to be a leggy Mel Ramos-esque beauty who's also a once-in-a-generation talent that's worth a billion dollars and married to Jay Z. It's that simple.
this article was originally published by the georgia straight in december 2013