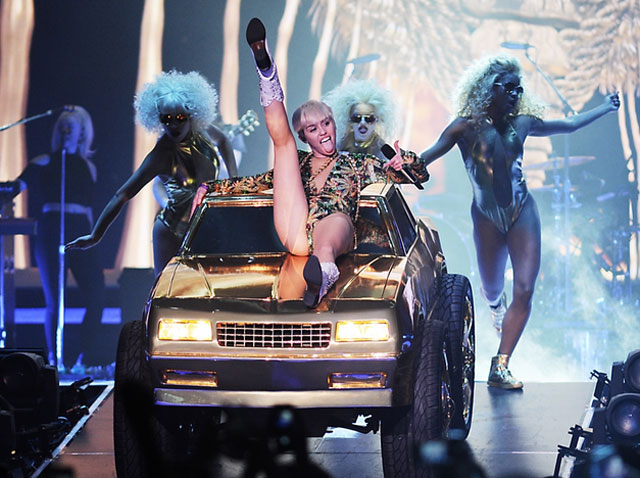 Long gone are the days where you had to be bribed with a Girls Gone Wild hat to flash some skin for a creep with a camera. In 2014, young women hound party photographers and proudly share the results on Instagram and Twitter. No pop star exemplifies this mindset more than Miley Cyrus, whose sexual awakening last year infuriated your Us Weekly­–subscribing mother and clogged your social media feed.
Barely legal females ditched their boyfriends on Valentine's Day to fill Rogers Arena for the first stop of the former Hannah Montana's hotly anticipated Bangerz Tour. While many came dressed in looks inspired by Miley, it was hardly a "trying to get a line in the bathroom" crowd—queues for Mike's Hard Lemonade were dwarfed by ones at merch stands that sold inflatable bananas and detritus featuring photos by your favourite pervball, Terry Richardson.
Smilers came ready to soak up pop hits while poppin' their asses. There was one question to be answered though: would their headline-hogging hero fall flat on her butt mid-twerk? To the delight of everyone in attendance, Cyrus proved she can't, and won't, be stopped.
The music started and everyone was on their feet, but where was Miley? Gradually the massive LED backdrop was filled with the face of the 21-year-old pop princess. Then a hatch opened up and a massive tongue snaked out of a set-piece mouth towards the stage. Cyrus deftly slid down it and commanded, "Let me hear y'all make some fucking noise". A cacophony of shrill shrieks, squeals, and OMGs ensued after a spectacular entrance as she opened with "SMS (Bangerz)".
Joining her onstage for the club-friendly, well, banger, were back-up dancers, a Munchkinlad-escapee in a red PVC outfit, a BBW with a butt that belittled the one Sir Mix-A-Lot rapped on, and four sickos in fursuits. (Apologies to the Vancouver furry community. Society has come a long way in recent years, but we're still not ready to accept yiffing.)
For the next number, a gold-plated car with spinners rose from a trapdoor. Miley hopped on and humped its hood while singing "4×4″ as it drove around on stage and sprayed dolla bills out of the wheel wells. This is how the rest of the evening would go: Lady Gaga's artful weirdness coupled with vintage-Madonna in-your-face-sexuality.
During the highly entertaining hour-and-forty-minute-long spectacle we primarily heard tracks off of Bangerz with a smattering of hits from earlier albums as well as covers of "Hey Ya!" by OutKast and "Jolene" by Dolly Parton. While this was happening we were treated to visuals courtesy of Ren & Stimpy creator John Kricfalusi, a dozen or so bejewelled outfits designed by the likes of Roberto Cavalli and Marc Jacobs, and an inflatable wolf that was at least 10-Mileys high.
To answer the burning question that kept you awake at night leading up to this show: you better fucking believe there was twerking. In fact, the most powerful tool onstage was the singer's ass. Anytime she aimed that thing at the crowd the roar was deafening. It is a lethal weapon that could topple governments, and not just in the Middle East. Live in fear.
While flying around on a hot dog phallus and singing "Someone Else", the massive LED screen opened up and Cyrus exited the stage. Of course, the show was not over. The biggest bangerz had yet to be performed.
Billy Ray's daughter returned with the club anthem "We Can't Stop", during which the Munchkin was dressed up as a joint and we all sang along. The crowd participation continued when she played her biggest hit, the emotional power ballad "Wrecking Ball". For a minute it felt like it might end there, but no. There had not been enough nodding of heads and moving of hips like yeah. Flanked by the BBW in a Statue of Liberty costume and the little person in a hilarious Liberty Bell getup, Miley belted out the disgustingly catchy "Party in the U.S.A." while sporting a sparkly Stars & Stripes outfit and hillbilly teeth. This twisted tribute to 'Murica ended the show.
Valentine's Day only happens once a year, but taking a provocative selfie at the Bangerz Tour was a once in a lifetime experience. Miley did not disappoint and delivered the most Instagram-worthy concert of the year.
As for the parents in attendance, they left praying their kids don't come home one day in fursuits.
photo by rebecca blissett www.rebeccablissett.com
this article was originally published by the georgia straight in february 2014