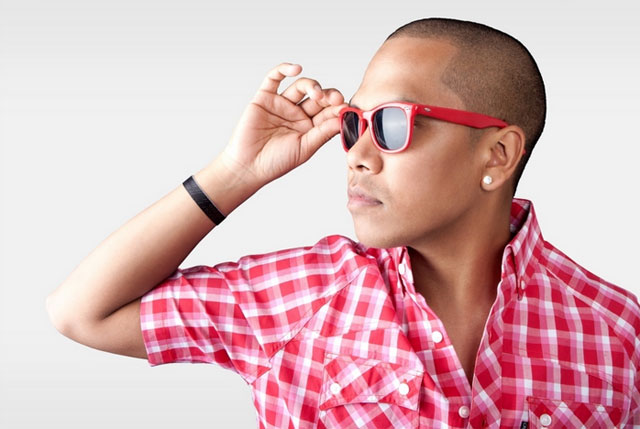 While a lot of us can't wait to point and laugh when the EDM bubble bursts, it's not going happen anytime soon. Testament to that, dance-music disciples packed the Pacific Coliseum for the all-ages Get Together 2014 party to hear Beatport bangers and bass drops while fist-pumping, glow stick–waving, and not-staring at all at the underage girls in their underwear. (I've been following this whole Woody Allen debacle and am incredibly on edge.)
With a healthy dose of lasers, lights, and LED screens in full effect, a member of DVBBS screamed, "If you're out here getting fucked up tonight, say 'Fuck yeah!'" The response suggested that most were celebrating the long weekend by getting so mangled they definitely wouldn't want to see their parents on Family Day. The young and wickedly entertaining brothers from Orangeville, Ontario proceeded to play a testosterone-fuelled set laden with their own productions. While clearly graduates from the Steve Aoki school of DJing, they stopped short of throwing cake at us, sadly.
Up next was Andrew Rayel, an upstart from Moldova, which you probably couldn't find on a map. While dropping big shiny tunes by Calvin Harris, Hardwell, and Zedd, the lord of the dance was significantly more subdued than everyone else who took to the LED-plinth-cum-DJ-booth. It was adorable to watch a crew of muscular MMA-types dance in a circle together to Rayel's more melodic offerings. Unfortunately, subtlety won't win many over when a noticeable chunk of the audience consists of grown men in glowing fun-fur animal hats and jailbait in booty shorts with "It won't spank itself" written on the verso. (It was just a fleeting glimpse, I swear.)
Tritonal opened with Showtek's "We Like To Party", one of the biggest songs around right now. As it played, multiple groups of people, called Tritonians, busted out flags and signs with the name and logo of their heroes from Austin, Texas. The duo followed that up with a bounty of their emotional, vocal trance offerings including "Colors", "Electric Glow", and "Now Or Never", which got all remaining pupils and jaws in the building dilated and gurning. It should also be noted that when they played "Crackin'" by the Bassjackers, a trio of women simultaneously did the splits beside me, then casually walked away like that was nothing out of the ordinary for them.
"Welcome to the world of Dirty Dutch," said an ominous voice over the speakers. This could only mean one thing: it was time for Chuckie, a Dutch purveyor of dirty funkin' beats—conveniently the title of the headliner's opening track. Indeed, we got a lot of those, as well as a smattering of classics by ATB, House of Pain, and Reel 2 Real, with a healthy chunk of contemporary cheese by Avicii, Armin van Buuren, and Swedish House Mafia.
For the final song of the evening, Chuckie commanded everyone to sit on the ground. We were all in a highly suggestible state at this point, so we obliged even though the ground was totally gross.
"When the bass drops, you're all gonna lose your shit," the DJ cautioned. The man knew what he was talking about. After everyone jumped up and the final fist-pump session took place, the houselights went on and the incredibly fun six-hour-long four-on-the-floorgy was over.
For most, this meant hopping into one of the countless limousines or party buses that were parked out front. The night was just getting started. For a few, however, it meant sneaking into a minivan, driven by mom. It was really chilly out and she was worried you'd catch a cold in that outfit.
this article was originally published by the georgia straight in february 2014