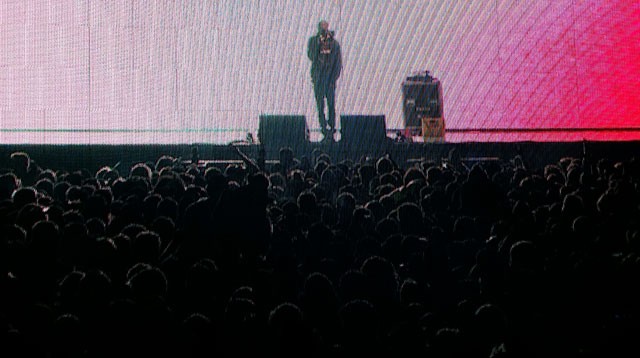 This past weekend, people travelled from far and wide to wear funny outfits and neon face paint at a massive gathering that put parties at Sodom and Gomorrah to shame.
Highlighted by an unprecedentedly awesome lineup, the Pemberton Music Festival is the most ambitious concert event to ever take place in this province.
But let's talk about something more important: me. Impressively, I've somehow managed to avoid multi-day music fests my entire life. Well, it's actually not that impressive. I simply think camping sucks, travelling more than 15 minutes to see a band is a colossal waste of time, and using a bathroom without a bidet is strictly for plebs.
Regardless, I summoned every ounce of courage I could muster and cruised the Sea-to-Sky on Sunday to Pemberton, a usually sleepy village, which has the tagline "Adventure begins here".
How quaint!
Things couldn't have started much worse for the festival. On Friday, an exceptionally dark cloud was cast over the proceedings. To people who weren't there, the Pemberton Music Festival will likely always be known as the show where a kid from Regina died under suspicious circumstances. But inside the festival's sprawling grounds, the party raged on and revellers seemed unfazed by Friday's tragic incident. In fact, you were far more likely to hear people bitch about Kendrick Lamar's set starting a little bit late that evening.
Fittingly for a Sunday, the Hallelujah Train, a gospel-choir project from Louisiana, was one of the first acts to take the stage. Joining them was the ridiculously accomplished Canadian music icon Daniel Lanois. Unfortunately, their songs of Jesus and redemption probably didn't reach the people who need to have the fear of God put in them the most. Many hadn't emerged from their tents yet, presumably because they were all sleeping off Girl Talk–induced hangovers from the previous evening.
Up next was a CanCon power hour where you had to choose between pop-rockers Sloan and hardcore punks Fucked Up. Indifferent to both, I chose the act with an F-bomb in its name and wasn't disappointed. The band's charismatic, hirsute, and shirtless frontman Damian Abraham hopped off-stage and ran around in the smallish crowd dispensing hugs while screaming the lyrics to "Queen of Hearts". Later in his set he gave a shout-out to B.C. weed and one guy wearing a pylon on his head and another who was waving a Jägermeister flag both nodded their heads approvingly.
Over at the Bass Camp Tent it was time for a little uhn-tiss-uhn-tiss music to get going courtesy of Baauer. If you're not familiar, he's the guy who produced "Harlem Shake", which spawned a sickeningly popular YouTube meme last year. (Chances are your most annoying coworker proposed that your office make one of these videos at some point.)
Almost immediately he turned a rather sleepy day into a raging party. Jaws gurned and pupils dilated while many a flower-crown-wearing girl was hoisted onto the shoulders of shirtless bros for the bombastic set. After watching measly crowds show up for internationally lauded acts like Fucked Up, while upstart DJs draw huge numbers, it's pretty clear EDM reigns supreme at festivals of this ilk and live music is on the way out. And somewhere nearby, deadmau5 is cackling, while having sex with a woman far more attractive than you'll ever bag, on a giant pile of money.
Frontrunner for the weirdest inclusion on the Pemberton lineup would be Randy Newman. If you're over 45, you know Newman for his satirical piano-pop songs like "Short People", "I Love L.A.", and "Political Science", which he played for an audience of about 100. If you're under 45, he's the guy who does all those Pixar movie songs like "You've Got a Friend in Me", which he performed as well. Fan or not, I think we can all agree it's not what shirtless kids on E are throwing on at parties. Newman managed to put on a spirited show despite St. Vincent's loud, squawking voice from a nearby stage pretty much drowning him out. My faith in humanity was temporarily restored while sprinting back to the Bass Camp Tent to catch the Justice DJ set. A festival bro pointed at me and we locked eyes. Were we going to fight? No, he mouthed the words "Randy Fucking Newman" to me. He knew what was up!
French duo Justice is at least somewhat responsible for EDM as we know it today. So if you're the kind of person who likes to wear a slutty Fun Fur unicorn outfit while tripping balls, you were undoubtedly amused by the multiple sing-alongs to their remix of Simian's "Never Be Alone" and giant strobe-light cross visuals. (Maybe the Hallelujah Train should invest in one of those?) Justice wound things down by playing "Ain't No Mountain High Enough" by Marvin Gaye and Tammi Terrell as the tent cleared and everyone made their way to the Pemberton Stage.
Outkast was about to start and even all the furry freaks weren't about to miss that.
Outkast is touring festivals on a wave of nostalgia and really not much else—André 3000 and Big Boi have no plans to record new material. Perhaps aware that their current run of gigs might be seen as a bit of a cash grab, 3K was wearing a price tag that read "sold" for the whole show. At the same time, when they opened with "B.O.B.", it quickly showed that they're the perfect headliner for a blowout like this: everyone knows the chorus to every one of their many hits.
When Outkast performed "ATLiens", and commanded people to throw their hands in the air, the faithful did so like they just didn't care and then said "oh-ye-yer". For "Ms. Jackson" the crowd genuinely felt bad about making your daughter cry and apologized a trillion times. During "Hey Ya" people shook it like a Polaroid picture, even though you totally shouldn't shake Polaroid photographs. And then, just to demonstrate their complete control over the audience, during the final song "The Whole World", they ordered women to lift up their tops and many did. (It had been a long weekend at this point and everyone was in a highly suggestible state.)
Closing the festival down was R&B singer Frank Ocean. He came out on-stage alone and sporting a black hoodie with "Play Dirty" written on it. Cueing up tracks on a record player, he quickly showed he didn't need anything else because he's got that incredible fucking voice.
"You sound good. It's like the Pemberton choir," he commented after it was clear we all knew every single word to "Thinking About You", "Novacane", and "Super Rich Kids". When he finished with "Pyramids" and "Wise Man", it was no surprise that as you exited the festival couples were on the ground in various states of undress. On a day when you got to see Daniel Lanois, Randy Newman, Justice, and Outkast, Ocean left you thinking he might be the most talented of the lot. And unlike Outkast, he didn't even need to ask people to remove their clothes.
Because of the incident on Friday, many will lump the Pemberton Music Festival alongside other infamous local gigs like Shannon Hoon of Blind Melon peeing on-stage in 1993, Oasis ending its concert after a few songs in 1996, the Guns N' Roses no-show that sparked a riot in 2002, and, of course, the Pemberton Festival clusterfuck in 2008. However, the majority who attended this well-executed spectacle will be coming back for more. Myself included.
I might even stay an extra day next year if they can sort out a bidet for me.
this article was originally published by the georgia straight in july 2014